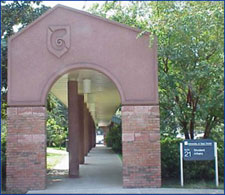 Eduation

From accounting to zoo keeping. Pensacola's educational institutions cover a variety of professional and academic interests. The University of West Florida, Pensacola Junior College and the George Stone Area Vocational-Technical Center also offer courses requested by area employers.

Escambia County School District
With more than 45,000 students, the Escambia County School District is one of the 100 largest in the nation.

The county's school system provides programs ranging from dropout prevention for troubled youth to accelerated learning for gifted students. Progressive initiatives include magnet schools for elementary and middle school students, an International Baccalaureate Program emphasizing language and math, and the Academy for Health Professions offering training in medical fields. The student-teacher ration is approximately 24 to 1. About 74 percent of students continue their education after high school. Local students consistently score above state and national averages on the Scholastic Aptitude Test -- an average of 932 for Escambia versus 882 for the state and 902 for the nation.
Santa Rosa County School District
Santa Rosa County offers a wealth of educational opportunities at every academic level from pre-kindergarten to graduate level programs. The county has 29 public schools serving nearly 21,000 students.
The Santa Rosa School District has repeatedly received accolades for the many achievements of its students, including above-average test scores, a low dropout rate, and a high percentage of students who go on to further their education after graduation. The district is noted for its small classes and the low student to teacher ratio allows teachers to work closely with each student to ensure that individual needs are met.

Students graduating from Santa Rosa Schools have ranked among the top three of 67 districts in Preparedness for College for the three years from 1994 to 1997. Initiatives within the school system have resulted in development of programs such as the Santa Rosa Connection and worker certification - programs designed to prepare the students for life after high school, pursuit of a higher education or joining the workplace.
University of West Florida
At the University of West Florida, new buildings and a growing enrollment are signs of surging momentum. UWF offer graduate and undergraduate programs for its 8,000 students. UWF's partnership with area businesses provides training and education for students and benefits for the community as well. In addition to its Small Business Development Center, UWF houses the Raymond Has Center for Business Research and economic Development, which provides economic activity forecasts, collects and analyzes information on the area economy, and sponsors projects in regional economic development. Pensacola area students can take courses at UWF while earning a degree from the University of Florida in electrical engineering or computer engineering. The Institute of the Interdisciplinary Study of the Human and Machine Cognition conducts research on medical artificial intelligence, machine learning, neural networks and other topics.
Pensacola Junior College
Pensacola Junior College's five campuses provide college credit courses to 30,000 people each year. Along with traditional liberal arts courses, PJC offers nursing, dental and allied health training, environmental sciences, agriculture, and horticulture courses and an array of vocational training and workshops.
George Stone Area Vocational-Technical Center
George Stone Area Vocational-Technical Center is fully accredited. Its curriculum is designed to handle requests for instruction from existing and future industry.
Troy State University
Troy State University-Florida Region has 3,000 graduate and undergraduate students studying a wide variety o subjects at convenient locations at Pensacola Naval Air Station and other military bases.
Pensacola Christian College
Pensacola Christian College enrolls more than 3,000 students per year, emphasizing religious and academic subjects. The college owns Abeka Books, a national leader in publishing religious educational books.
Libraries
The West Florida Regional Library serves the Pensacola MSA (Escambia and Santa Rosa counties) with six libraries, a bookmobile and a computerized system.

In addition, libraries at the Pensacola Junior College and the University of West Florida are open to the public. PJC's libraries hold more than 150,000 volumes and 7,000 audio/visual listings; UWF's library contains 530,000 volumes and is a regional depository for 580,000 state and federal publications.
For More on the Pensacola Area, click on the links below:
Attractions | Beaches | Education | Festivals & Culture | Fishing & Diving
Golf Courses | Health Care | The Military | Area Links