Festivals
The Pensacola area has plenty of culture -- art to open your eyes, dance to keep you on your toes, and history to entertain and educate you.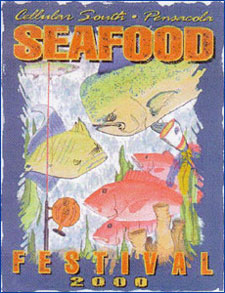 Quayside , the South's largest art cooperative, is around the corner from the Pensacola Museum of Art. Quayside offers talented homegrown artists while the museum - which used to be a police station - exhibits nationally known artists. In addition, both the University of West Florida and Pensacola Junior College have galleries.

You can hear all sorts of sounds - symphony, jazz, country, big band as well as opera from Pensacola's professional opera company. Theatrical and dance companies perform throughout the year.

Professional touring companies stage shows at the Saenger Theatre, a lovingly restored 1926 theatre. Nearby, the Pensacola Little Theatre holds forth in a stylish 474-seat theater in the Pensacola Cultural Center, home to numerous arts groups. Dance, choral and symphony groups use both theaters for a variety of cultural and artistic shows.

Museums give insights into other eras. The Civil War Soldiers Museum features a fascinating look at medicine during the War Between the States. The T.T. Wentworth Jr. Florida State Museum displays artifacts of the Pensacola area. And the Colonial Archaeological Trail steps through forts that once protected Pensacola.

Great festivals and events are held virtually every weekend, celebrating everything from seafood, sausage and barbecue to art, music and heritage.

Mardi Gras events of all types rock each year.
The Emerald Coast Classic in March is PGA Golf at its best!
Numerous events at Pensacola Beach and Perdido Key add to the fun in the sun, with everything from mullet-tossing to wine-tasting.
SpringFest in May is a three-day festival full of music and fun.
Fiesta of Five Flags in June celebrates Pensacola's heritage.
Annual Fourth of July musical celebrations and fireworks displays.
The Navy's Blue Angels soar through the skies in July and November.
Pensacola Seafood Festival kicks off the fall season.
Pensacola Interstate Fair in October has big-name entertainers, food, games and 60 rides on the midway.
Great Gulf coast Arts Festival in November attracts artists and art-lovers from around the nation while the Frank Brown International Songwriters Festival brings dozens of tunesmiths to town.

For More on the Pensacola Area, click on the links below:
Attractions | Beaches | Education | Festivals & Culture | Fishing & Diving
Golf Courses | Health Care | The Military | Area Links