Military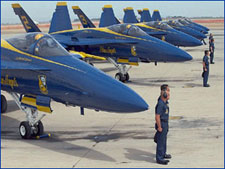 The military has always been an integral part of Pensacola's history.  Our area supports several military installations, and Pensacola is known world-wide as a "Great Navy Town".
Our military bases give a strong boost to the Pensacola area's economy and also to its employment base and its cultural fabric.  Military personnel and their families - active duty and retired - bring many new ideas, experiences, education and training to the area.  You are always welcome!
Naval Air Station (NAS), Pensacola, is known as the "Cradle of Naval Aviation".  NAS Pensacola serves as the launching point for the flight training of every Naval Aviator, Naval Flight Officer, and enlisted Air Crewmen. In addition, about 30,000 aviation students and aviation personnel in aeronautical technical phases of naval operations will be trained here.  NAS Pensacola directly supports the training of student aviators from Officer Candidate School, initial flight gear issue, and survival training, all the way to the coveted "Wings of Gold."  
The Navy's precision Flight Demonstration Team, The Blue Angels, are based at Pensacola Naval Air Station, which also is home to the National Museum of Naval Aviation.  The world class museum is free and open to the public daily from 9 a.m. to 5 p.m. It also has an IMAX Theater which shows thrilling big-screen films about aviation and other adventures.
Corry Station is the home of the Center for Cryptology, one of the Navy's training showplaces.  The center is located about five miles north of NAS Pensacola.  Corry Field was established in 1928 and served until 1958 as a flight training facility.  In 1960 Corry Field was redesignated as the Naval Communications Training Center, and began training the Cryptology (CT) ratings.  
Today, the Center for Cryptology is tasked with guiding the personal and professional development of all 14,000 CT & EW Officer and Enlisted personnel in the Navy.  The training command has an annual throughput of approximately 9,000 students for the four services. The mission is to provide personnel with the proper tools, and opportunities to learn, grow, and excel in the field of Cryptology.
Naval Air Station Whiting Field in Milton, Florida is the busiest Naval Air Station in the world, responsible for an estimated 46 percent of the Chief of Naval Air Command's total flight time and over 10 percent of Navy and Marine Corps total flight time. Over 1,200 personnel complete their essential flight training yearly. NAS Whiting Field and Training Air Wing Five have an outstanding and unmatched safe flying record. The station has served as a naval aviation training facility since it was established as a naval air auxiliary station in July 1943. Its present mission is to train student naval aviators in the primary and intermediate phases of fixed-wing aviation, and in the advanced phases of helicopter training.
The Whiting Field/Milton area is noted for its pleasant overall quality of life and relaxed atmosphere. Within driving distance are national parks, historic sites and the sugar-white beaches along the famous Gulf Shores of the Florida Panhandle.
Saufley Field, located about ten miles north of NAS Pensacola and about eight miles west of Pensacola Regional Airport, is used for practice landings and take-offs ("touch and go's") by training aircraft from other fields. There are several tenant commands located at Saufley Field to include:
Naval Education & Training Program Development & Technology Center (NETPDTC): a subordinate command of the Chief of Naval Education & Training (CNET) whose mission is to create and provide innovative education and training products. They are the Navy's sole administrator for the Enlisted Advancement Program.
The Defense Activity for Non-traditional Education Support (DANTES), the Defense Finance and Accounting Service Financial Systems Activity (DFAS-FSAPE), the Naval Reserve Center (NRC), and Bureau of Prisons (BOP) also call Saufley Field home.
Saufley Field is an area of approximately 657 acres (plus 209 acres undeveloped, mostly wetlands) and currently has about 600,000 square feet of building space with two (2) 4000-foot runways. In addition to 63 buildings, there are three aircraft hangars on the facility.

For More on the Pensacola Area, click on the links below:
Attractions | Beaches | Education | Festivals & Culture | Fishing & Diving
Golf Courses | Health Care | The Military | Area Links